NEMOA | News Detail
ACMA Postal Alert: PRC Remands Postal Rates Proposed for Standard Flats

Industry Alert:
PRC Remands Postal Rate Case;
Demands Steeper Increase for Standard Flats
It's been a hectic day today and I wish I were sending you better news. This afternoon, the Postal Regulatory Commission issued its response (link to its order) on the US Postal Service's proposed postal rate schedule for 2013. Although the Commission essentially rubber-stamped virtually all the new rates proposed, it did not do so for Standard Flats.
In its ruling, the PRC remands the proposed 2.57% Standard Mail rate increase (consistent with the CPI cap) to the Postal Service for revision consistent with the directive from its FY 2010 Annual Compliance Determination (ACD). As you may recall, that ACD called for rate increases beyond the price cap as well as significant cost cuts to get Standard Flats out of their "underwater" status.
The amended notice is due from the USPS within 10 days of the PRC order so that new rates that comply with applicable legal requirements can be reviewed and implemented, as planned, on January 27, 2013. ACMA is working on submitting comments to ensure that catalogers are treated fairly under the circumstances. We will keep you posted as this very grave situation further develops.

Sincerely,
Hamilton Davison
President & Executive Director
American Catalog Mailers Association
www.catalogmailers.org
Direct: 401-529-8183
hdavison@catalogmailers.org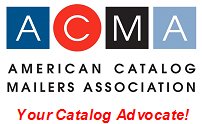 Published: 11/16/12