NEMOA | News Detail
ACMA's 5th Annual National Catalog Forum
The 5th Annual National Catalog Forum is now available for registration.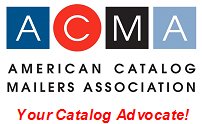 January 12, 2012
Registration Now Open for ACMA's
5th Annual National Catalog Forum,
Washington, May 1-2, 2012
The 5th Annual National Catalog Forum is now available for registration. Simply
click here
or go to the
ACMA Forum page
, and find the Forum link to register for the event, which will be held May 1st & 2nd at the Washington Plaza Hotel in Washington, DC. As in the past, the Forum is open to both members and non-members. Members should log on to the ACMA site before registering.
We've set up a discounted hotel room rate with the Washington Plaza.
Click here
to book your room. If you have any trouble with the link, go to the hotel's website (
washingtonplazahotel.com
), click on "reservations," then click on "groups" toward the top of the page, then key in our group code ACMA12. And some good news for your wallet: no rate increase here, as we've been able to hold the registration fees level with last year's.
The Forum agenda will be announced soon. We fully expect to improve on the powerful lineup from last year's event, which featured presentations from Postmaster General Patrick Donahoe, USPS Inspector General David Williams, and Postal Regulatory Commission Chairman Ruth Goldway, as well as ACMA President & Executive Director Hamilton Davison, among others. All the sessions produced lively and productive exchanges.
###
About the American Catalog Mailers Association:
ACMA is a Washington-based not-for-profit organization specifically created to advocate for the unique collective interests of catalog mailers in regulatory, public and administrative matters where the shared impact transcends individual company interests. ACMA participates in rulemaking and other proceedings of significance where a single collective voice increases influence and effectiveness. Membership is open to any party with significant interests in the catalog industry. More information can be found at
www.catalogmailers.org
.
Contacts:
Paul Miller, vice president & deputy director, 914-669-8391, pmiller@catalogmailers.org
Hamilton Davison, president & executive director, 800-509-9514, hdavison@catalogmailers.org
Published: 01/12/12