NEMOA | News Detail
ACMA's 9th Annual National Catalog Forum - Discount Registration Available Now!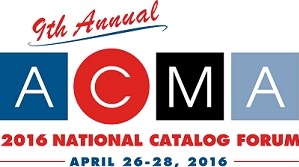 Spend 2 Days Influencing The Decision Makers
Who Control Your Postage Costs


1. Book your place now for the 9th Annual ACMA National Catalog Forum in Washington, April 26-28, and take advantage of our discounted registration rate. But hurry - that rate expires Friday, March 4th. Click here to register now.

2. With top postal executives and key Washington legislators in attendance, the 2016 event promises to be the perfect opportunity for catalog industry advocacy and networking. View the agenda.

3. The hot topics in cataloging rarely fizzle out; they intensify. The industry's efforts to keep catalog postage rates affordable are ongoing, and are only going to heat up as the CPI-cap system is to be reviewed next year. The battle over remote sales tax could come to a head this year. At the ACMA Forum, see how you can help take matters into your own hands.

Control Your Company's Fate
You can play a direct role in helping your own cause by attending this year's ACMA Forum. Register now and be sure to use this link to book your discounted room at Washington's Palomar Hotel. If you prefer to call the hotel directly at 202-448-1800, mention the code "2016 ACMA Forum" to get the discounted rate. The deadline for the special room rate is April 4th.

Engage a Colleague, Competitor, Supplier...
Numbers influence Congress, the USPS and even the postal regulator. Call one or more colleagues, competitors, suppliers or others in the industry today and ask them to join you in shaping the future of catalog marketing! Or email us with who you have in mind and we'll be happy to make it happen on your behalf!
Published: 02/10/16