NEMOA | News Detail
National Catalog Forum Just 5 Weeks Away - Have You Registered?
Help Shape Your Business's Future;
Register Now For The Catalog Forum & Policy Caucus






Help Shape Your Business's Future;
Register Now For The
Catalog Forum & Policy Caucus




If you haven't seen the blockbuster agenda for ACMA's 7th Annual National Catalog Forum & Policy Caucus, click here now. Then click on the icon at right for your chance to directly influence key legislative issues that affect your business.

Help Define Your Business's Future
The catalog industry is facing severe challenges. Postal: Congress and the Postal Service itself are threatening to drive up postal rates for catalogs well beyond the punishing exigent rate hike that was enacted in January. Tax: Despite strong work by our coalition, the remote sales tax issue remains volatile.

If catalogers and other remote marketers don't keep on top of these issues, unfavorable laws may be enacted that could ultimately cripple your business. Fortunately, you can directly affect the outcome. Join other catalog executives and suppliers to present a vocal and united front at next month's ACMA Forum. With this in mind, we've chosen an appropriate tagline: "Defining the Future of Cataloging."

All-Star Lineup Focused Solely on Cataloging
Only at the ACMA Forum will you have the opportunity to be heard by these and other key Washington decision makers:

Senator Tom Carper
Senator Tammy Baldwin (invited)
Senator Chuck Schumer legislative assistant Anna Taylor (invited)
Rep. Bob Goodlatte counsel Daniel Huff
Rep. Jason Chaffetz legislative director Mike Jerman
Postmaster General Pat Donahoe
Postal Regulatory Commission Chairman Ruth Goldway
Other top USPS and Congressional officials, and more...
The Future of Your Business is At Stake
You cannot afford to miss this huge event. All of the speakers will present, but that's only the half of it: They will want to hear from YOU, your concerns, your ideas, and most of all how their actions will impact your business.




Discount Hotel Reservations:
Our block of discounted hotel rooms at the host hotel ($249/night) are nearly sold out. Click here for the hotel reservation page. If you prefer to call the hotel directly at 202-842-1300, mention "American Catalog Mailers Association" to get the discounted rate. The deadline for the special room rate is next Friday, March 28th.

Engage a Colleague, Competitor, Supplier...
In Washington, it's a numbers game. The way to accomplish this is to get many more catalogers and suppliers to the ACMA Forum. Call one or more colleagues, competitors, suppliers or others in the industry today and ask them to join you at what will be a very valuable few days that will, indeed, shape the future of catalog marketing! Or email us with who you have in mind and we'll be happy to make it happen on your behalf!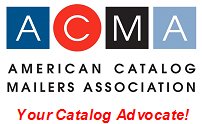 Published: 03/25/14