NEMOA | News Detail
ACMA-Cofounded Mailer Coalition Appeals Exigent Rate Increase
All Hands Must Be On Deck
Mailing Industry Coalition Appeals Exigency Increase; ACMA Lobbies Hard on The Hill; Funding Badly Needed Now





All Hands Must Be On Deck
Mailing Industry Coalition Appeals Exigency Increase;
ACMA Lobbies Hard on The Hill; Funding Badly Needed Now


To All With Catalog Industry Interests:

As ACMA President & Executive Director Hamilton Davison schleps back to Washington suited up to fight the nonsense, I wanted to update the industry on what's going on - and in sum, I can't put this any less succinctly: Please read this entire Alert as if your (business) life depended on it, because it does.

Since the Postal Regulatory Commission approved the USPS's request for a 4.3% exigent postage increase on December 24th, ACMA has been working diligently to find ways to get this ruling overturned. We helped re-form a broad mailing coalition we had helped form in 2010 that defeated the previous exigent increase proposal.

Late last week, our work culminated, for now at least, in the coalition's filing of an intent to appeal the matter before the U.S. Court of Appeals for the District of Columbia. While we acknowledge getting anything done in Washington is not a slam dunk, we cannot sit by idly. We fully recognize that with this rate hike, combined with the USPS's annual CPI-capped increase of 1.6% - totaling nearly 6% or three times the rate of inflation, some of our members will be facing job losses; others could go out of business altogether. So we have to use every means at our disposal to fight this outrageous increase that will cripple our members' ability to mail their catalogs while perpetuating the Postal Service's downward spiral.

Industry-Wide Effort
In addition to ACMA, the coalition comprises other industry associations and suppliers across all classes of mail including MPA—The Association of Magazine Media, DMA, PostCom, Greeting Card Association, National Postal Policy Council, Printing Industries of America, ACMA member Quad/Graphics, and others – more than a dozen in total.

Action on Senate Postal Reform Draft Bill
Sadly, this is only the tip of the iceberg: A new draft of the Senate's postal reform bill was introduced on Wednesday. As we speculated in our report from January 17th, it revises the rates and governance section (Section 301) from last year's Senate bill also is bad news for the mailing industry. And postal reform and exigency are now inter-related:

The one positive to come out of the December 24th PRC ruling was that after the USPS collects the revenue it claimed to have lost due to the recession, the rate base for future postage increases would revert back to what it was prior to the initial 4.3% increase. This bill aims to bake in (make permanent) the 4.3%-increased rate base.
The bill also calls for annual increases of CPI + 1% on top of the exigent-increased rate base.
Finally, Sec. 301 also would effectively remove the PRC from an active role in reviewing and deciding on rate proposals. That will give the USPS, a federal monopoly, full and unilateral control over its rate-setting process with no prior review by the PRC.
Working The Hill
Last week, along with several colleagues who were in Washington for a postal conference staged by Quad/Graphics, Hamilton visited various offices of Senators involved in resolving this. The meetings were intended to convince Senators that although the bulk of the Senate postal reform bill is actually quite workable for the mailing industry, Sec. 301 is not and must be eliminated.

Also in our alert, we encouraged you to call, visit or write your Senators to get them behind an expected amendment from Senator Tammy Baldwin of Wisconsin that would remove Sec. 301 from the bill. This was our thrust last week as well; in fact, Ham hand-delivered copies of several ACMA members' letters during his visits.

Do They Get It?
What we've often found when speaking with Senate or House staff or Members themselves is that they hear you out, but don't really appear to understand the severity of their actions to business mailers – they don't seem to "get it." Rather, they tend to assume their decisions will require a few initial adjustments, but then normalcy will follow soon enough. For instance, they don't seem to get it that the catalog industry never fully recovered from the huge 2007 postage increase.

Do YOU Get It?
Of equal importance, we also really need a far greater portion of the catalog industry — those who have not, to date, helped finance our vital work, as well as even some who have — to pitch in. It takes resources to influence Washington. ACMA has nearly exhausted its Postal Action Fund and it's going to take more funding to turn back this perfect storm massing against us. Do YOU get it? If you do, I'm sure you won't hesitate to contribute right now to the cause by clicking on the link to make a generous donation to our Postal Action Fund.

Catalogers' future ability to mail catalogs economically is on the line. And whether you're a printer, a list broker, another type of catalog mail service provider, we need your financial support. Despite all the great work we've done, ACMA remains too small and under-funded. While we certainly need to build up our membership, if you or your company aren't "association-joining types," please at a minimum make a donation to our ACMA Postal Action Fund right now. The work we are doing on behalf of the industry isn't cheap. Every dollar helps and your contribution is a fraction compared with what's on the line right now.

How You Can Help
Our partners in this vital coalition have put out the same appeals to their industries. We must get the catalog industry to stand up and become united in this cause. So again, please click here and make your donation today. Without your support of our tireless work, the economic future will dim unless we make our voice heard on the Hill.

Best,
Paul Miller
Vice President & Deputy Director
American Catalog Mailers Association
www.catalogmailers.org
914-669-8391
pmiller@catalogmailers.org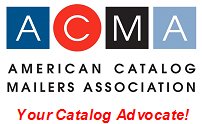 ###

© 2014 American Catalog Mailers Association, Inc. You are encouraged to pass this message on to others in the catalog industry.




Published: 01/27/14