NEMOA | News Detail
Urgent Call to Action: Act Now to Save Your Business

Urgent Industry Alert:
Postal, Tax Crises Go From Bad to Worse;
Catalogers Must Be Heard From Today!
Dear Catalog Industry Executive:
As you hopefully read in our previous emails this week, catalog and internet marketers have two very serious crises on their hands in tax and postal. Both are getting worse by the minute. All with skin in the catalog business, catalog mailers and their suppliers alike, must immediately take action to minimize the damage. Mobilizing several hundred companies will deliver a powerful statement to lawmakers. Please personalize the model letters we provide you with below right away, then call others in the industry to make sure they have followed through as well. This is as urgent a matter as the catalog industry has ever faced.

Senate Set to Bring Remote Tax Bill to Floor
The Senate is all ready to take up the catalog/internet sales tax bill (the Marketplace Fairness Act – S.743) next week. Among other damages, the bill will impose on you the responsibility for sales tax collection in every state with no compensation. Senate leadership wants to pass this without full deliberation and little consideration for how this will affect your business, customers and employees. For further details and why this is so dead wrong, click here.

Allowing state interference of interstate commerce should not be done lightly or without full deliberation of the consequences. Therefore, states should be required to enact meaningful simplifications and safeguards as a trade for Congressional permission on requiring remote sellers to become tax collectors for every state.

Your Call to Action #1
Ask your Senators to oppose this attempt to take your voice away, and to carefully examine the entire panoply of consequences S. 743 will impose on the American economy. ACMA has been in the war room with its partners at the True Simplification of Taxation Coalition (TruST) to educate Senators on the need for mandatory simplifications that must be written into statute prior to requiring remote sellers to collect sales taxes in states where they have no physical presence.

Click here to access a model letter you can use to contact your Senators right away. This letter asks them to oppose the bill in its current form on the floor next week and to give full consideration through the normal process.

Postal Service Readies Exigency Rate Hike
After last week's abandonment of five-day delivery, the Postal Service Governors directed management to evaluate all options to raise liquidity, specifically including an exigency postal rate case to jack up postal rates well beyond the CPI cap. Then this past Wednesday, during a House Oversight Committee hearing on the USPS financial crisis, some congressmen suggested the solution to the USPS's financial problems is a dramatic postage increase for "underwater" products. We estimate this will lead to a 20% increase or more to catalog Standard Flats postal rates. It also sets the stage for above-average increases in catalog Carrier Route, assuming reported flats processing costs continue to rise at four times the rate of inflation as they have over the past five years. While ACMA has written the Oversight Committee, we need you to weigh in also.

Your Call to Action #2
As with the tax crisis, your business can't afford to take this lying down. Please click here for a model letter you can use to write your Congressman right away. Wednesday's hearing was a travesty. Several members of the House randomly tossed out ideas of rate hikes to underwater products (namely, Standard Flats). However, we believe they have little idea exactly what those products are and how severely a significant rate increase could cripple your business. What's more, they also don't realize the extent to which rate hikes will set the USPS back even further – that is, once you and other mailers start cutting back on mail volumes.

The Time to Act is Now!
This two-pronged crisis is very real and could severely damage your business. It is imperative that every member of the catalog industry steps up to take immediate action - and contact others with skin in the game to take action as well. Letters must be emailed or faxed today. Please forward copies of your letters to Action@CatalogMailers.org so we can follow up. We must get a strong and widespread message to Congress now, before any damage is done. As always, ACMA is available to help out members – and in just such a crisis, to field non-members' questions as well. Thank you for taking action!


Sincerely,


Hamilton Davison
President & Executive Director
American Catalog Mailers Association
www.catalogmailers.org
Direct: 401-529-8183
hdavison@catalogmailers.org
###
About ACMA
ACMA is a Washington-based not-for-profit organization specifically created to advocate for the unique collective interests of catalog mailers in regulatory, public and administrative matters where the shared impact transcends individual company interests. The only catalog owned and controlled trade group focused solely on the business interests of catalogers and their supply chain, ACMA participates in rulemaking and other proceedings of significance where a single collective voice increases influence and effectiveness. Membership is open to any party with significant interests in the catalog industry. More information can be found at www.catalogmailers.org.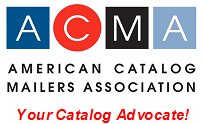 Published: 04/19/13