NEMOA | News Detail
ACMA Industry Bulletin: Catalog Report from Postal Forum



Dear Industry Member:

ACMA participated in the National Postal Forum (NPF), which was held March 17-20, 2013, in San Francisco. There were some noteworthy developments for catalog interests. Below, we provide you with a catalog-centric overview. In addition to this broader recap, ACMA members can get a more detailed report by logging on to our website.

Catalogs received highly visible mentions from top officers in numerous sessions, reflecting, in part, ACMA's education efforts and direct influence in raising the profile of catalog interests with postal decision makers. USPS officials clearly demonstrated awareness of elements critical to managing mail's long term viability and brand for the future, including predictable delivery, consumer relevancy, enhanced technology linked to how Americans communicate or use mail, and lean principles to reduce cost or lead time.

Some Exciting Changes
During the NPF, I had productive conversations with top USPS executives, including COO Megan Brennan and the new VP of Pricing Cynthia Sanchez-Hernandez, among others. I also attended various sessions where USPS officials shared plans and proposals. A number of exciting changes are in the offering that could increase the value of catalog mail in the future. Figuring out how to capitalize on the new information, capabilities and technology will require some concerted effort both for the USPS and those with catalog interests. Catalogers may anticipate different marketing and business management processes with these changes, but hopefully also a greater impact for the postal expense outlay in the coming few years.

ACMA Members Featured
ACMA catalog member Potpourri Group was featured before thousands of attendees in a video clip shot on location with PGI's SVP of Marketing Bob Webb. USPS VP of Sales Cliff Rucker highlighted the USPS's collaborative work with customers, spotlighting Potpourri's acquisition and retention of customers via mail. ACMA supplier member Quad/Graphics was honored with a "Partnership for Growth" award highlighting Quad's work in technology and other areas to strengthen the mail system. Congratulations to both ACMA members for being distinguished among a huge field of USPS customers and business partners.

USPS Reveals 2014 Promotions Being Considered
At both the March NPF and the February's Mailers Technical Advisory Committee (MTAC) meetings, USPS product development execs discussed promotions and incentives under consideration for 2014. The Postal Service's goals for these promotions are to:

Increase the long-term value of mail;
Highlight new technology and best practices; and
Encourage and accelerate industry innovation and adoption.
Many of the promotions have direct relevance to catalogs. As they did for 2013, postal managers expect to publish the promotional calendar well in advance, reflecting our request for early notice of their plans. AMCA members are encouraged to review and comment on the full list (members please log-on first, then see the list toward the bottom of the member-exclusive report).

ACMA Members-Only Report
Again, a reminder to members that further details are available at the top of the Members Only landing page after you log on to our website. Not a member? What are you waiting for? Give us a call or click here and you too will gain access to this and other member-exclusive reports, among many other members-only benefits gained from supporting your catalog trade association.

Sincerely,


Hamilton Davison
President & Executive Director
American Catalog Mailers Association
www.catalogmailers.org
Direct: 401-529-8183
hdavison@catalogmailers.org

###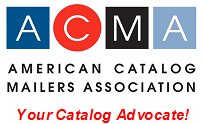 Published: 04/02/13