NEMOA | News Detail
Full Report On USPS Announcement To End Saturday Mail Delivery
Paul Miller, Vice President & Deputy Director of American Catalog Mailers Association





The big news of the day of course is this morning's announcement by the USPS to end delivery of mail on Saturdays, beginning this August. Below are some key facts followed by links to most of what's been released today:

Effective date? Week of August 5th, 2013
Mail impacted? All but packages, which will still be delivered to homes and mailboxes on Saturdays
What's not to be impacted? USPS will still deliver mail into PO boxes on Saturdays
Is it all worth it? USPS says it will save $2 billion annually
How can this be executed without a law passed in Congress? In a meeting with industry association executives today, USPS Deputy Director Ron Stroman said he believes it can. "The existing prohibition for us going to five-day delivery is currently contained in a continuing resolution that expires March 27," he said. "Even if there's disagreement about our ability to move forward, we're not planning to implement this till the first week of August, which gives us plenty of time to discuss this with Congress. We're urging no restriction be included in any resolution going forward to fund the government. We have to align our processing operations with our mail volume."
What is ACMA's position on ending Saturday delivery? We support this move and other aggressive cost cutting efforts, provided they make a material difference and help keep rates in check. We hope Congress will act soon to give the USPS greater flexibility in managing its costs.
Links to key sources of information on shift to five-day delivery:
In closing out today's meeting with association executives, Postmaster General Patrick Donahoe noted that the USPS has plenty more significant changes. However, resolving far bigger matters done, such as changing postal workers healthcare plans and resolving workers comp, must be done legislatively, noting "we can't do it on our own."

Best,

Paul Miller
Vice President & Deputy Director
American Catalog Mailers Association
http://www.catalogmailers.org/
914-669-8391
pmiller@catalogmailers.org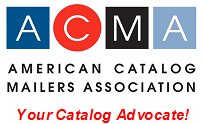 Published: 02/06/13