NEMOA | News Detail
Anti-Quill Tax Threat Will Deepen This Year
January 18, 2013


Anti-Quill Tax Threat More Severe This Year
Than Ever Before Unless Industry Mobilizes

Dear Industry Participant:

Experts think it is inevitable that Congress will overturn the Quill precedent sometime this year. As a result, all remote marketers will be required to collect sales tax on every single transaction, both B2C and B2B, for more than 9,600 taxing jurisdictions. There's a lot at stake here; consider all that remote marketers will have to deal with:
be subject to sales / use tax audits in 46 different states

face thousands of different tax reporting forms and remittance processes

be subjected to new corporate taxation and regulatory compliance by virtue of creating nexus in multiple new jurisdictions

depending on company size, compliance estimates vary but run as high as 17% of the tax collected and all this for a paltry third of a percent in new revenues for states and municipalities

and more!
Got all that? Now my question is, Do you care? If you do, please click here to read my full report.

Sincerely,

Hamilton Davison
President & Executive Director
American Catalog Mailers Association
www.catalogmailers.org
Direct: 401-529-8183
hdavison@catalogmailers.org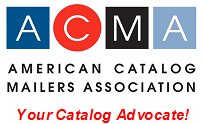 Published: 01/19/13